Address book in Mont-Tremblant
Mont-Tremblant is an international-calibre destination for a wonderful vacation, whether in the heart of its ski resort or in the nearby town. In addition to offering a wide aray of high-quality lodgings, the area also offers exceptional dining experiences. Here are LUXE magazine's suggestions.
RESTAURANTS
LA FORGE BISTRO-BAR GRILL
After a whole day of skiing, everyone—be it couples, families, or public gures—gathers at La Forge to savour delicious grilled foods or to have a glass in a relaxing atmosphere. The Bistro-Bar has a bistro menu for lunch and dinner. Tartares, mussels and fries, salads and burgers, as well as vegetarian and gluten-free dishes, are featured. As for the Grill, it offers delicious foods grilled on maple wood in a unique setting. Reservations required.
PATRICK BERMAND RESTAURANT
Here, you won't have the impression of being just another restaurant patron; you'll feel like the favoured guest of an excellent host. Expect delicious cuisine, a well-stocked wine bar, a dining room with a view of the kitchen, and a friendly atmosphere. Over the course of a meal, time will stop. The specialty of the French chef is without a doubt beef, served in various ways: tartare, bone-in let mignon, and Wagyu and Tomahawk steak. But sh lovers won't be jealous, with lobster poutine, black cod and tuna steaks on offer. The establishment also offers group cooking classes.
LE CHEVAL DE JADE
Le Cheval de Jade is a ne French restaurant located on Saint-Jovite Street in Mont-Tremblant. One of the 14 Maîtres Canardiers in the world, chef Olivier Tali is highly recognized for his Laurentian duckling à la Rouennaise, a lightly modi ed version of the famous pressed duck. The restaurant has other specialities, such as its sh soup and its bouillabaisse. The menu, changed every season, mostly uses local and organic products. Fine dining lovers can treat themselves with the discovery menu: snow crab cake, duck breast with foie gras sauce, and gourmet desserts.
sEb L'ARTISAN CULINAIRE
A cuisine of emotion, simultaneously gourmet and creative: this is how chef sEb prefers to de ne his culinary approach. Choosing ingredients coming from the Laurentians where possible, the chef adds a pinch of international avour and a touch of the avant-garde to his Bison brisket, apple and pine venison striploin, and seafood soffocato. He creates dishes full of avour and nesse, offering a true sensory experience to those who try them. Add a well-rounded wine list and a welcoming environment to the experience, and you get one of the best restaurants in the area.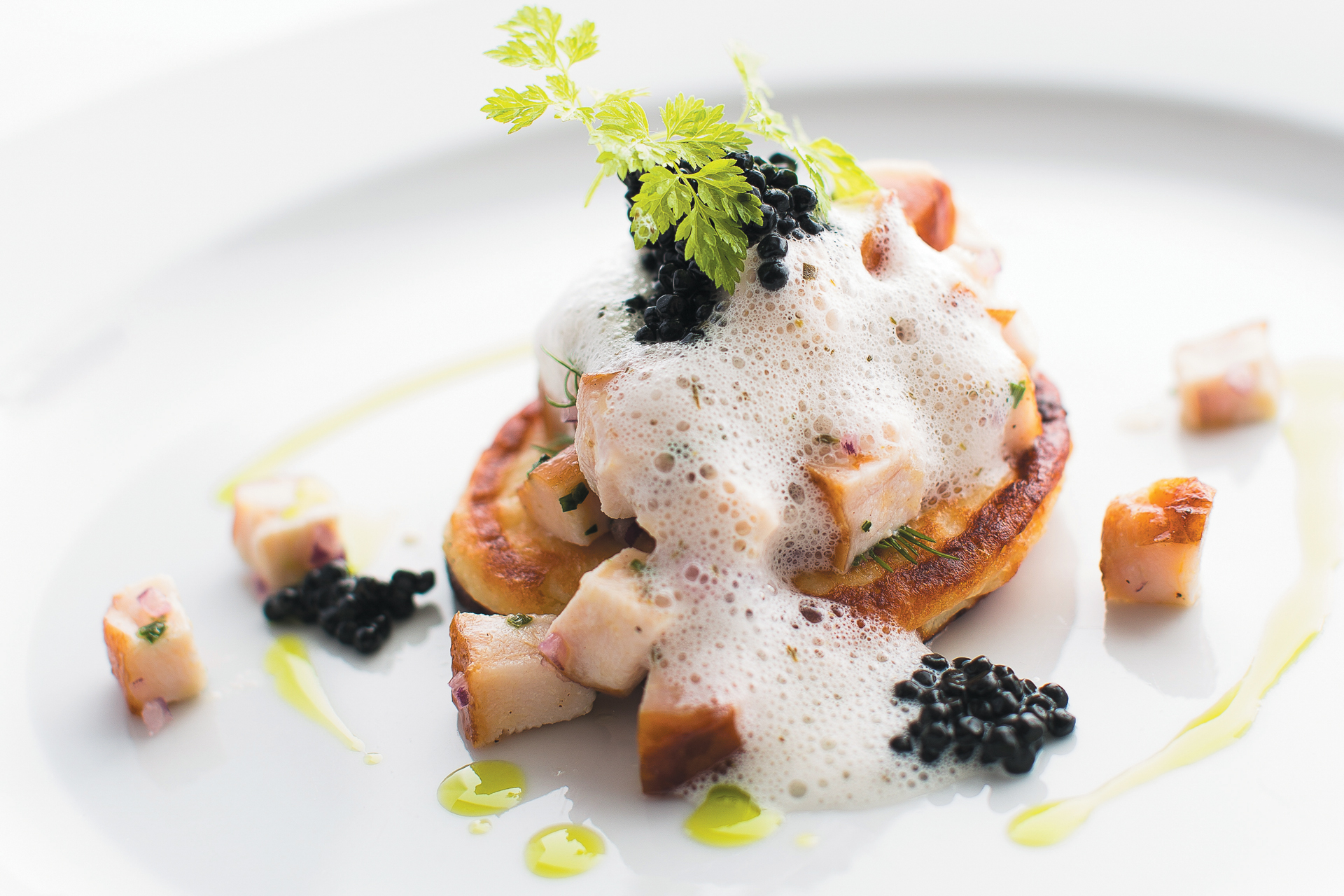 C'EST LA VIE
Owner and chef Fabien Glissen admits that his cuisine is "simple, comforting, precise, and ef cient." His recipes may be made up of only a handful of ingredients, but they are all of top quality. The restaurant offers several dishes cooked on a pierrade, a volcanic stone heated to high temperatures, ideal for a cooking without any added fat. Meats and sh such as let mignon, ostrich, tuna, bison, kangaroo, venison, wapiti, camel, and crocodile are on the menu. It's enough to satisfy the taste buds of the most demanding foodies.
HOTELS
HÔTEL QUINTESSENCE
Located at the foot of Mont Tremblant and the shores of Lac Tremblant, Hôtel Quintessence has charmed its visitors for over a decade. This preeminent hotel, the rst ve-star boutique hotel to be built in Mont-Tremblant, offers outstanding service. The prestigous Condé Nast Johansens magazine has named it one of the best small hotels in North America. The establishment has 30 luxury suites with stunning views of the lake. Additionally, it has a spa and a Four Diamond-rated restaurant that offers a re ned culinary experience.
FAIRMONT TREMBLANT
Beautifully situated on a slope of Mont Tremblant, this resort distinguishes itself by its pedestrian village and its many lakes and hiking trails. After the recent renovation of its rooms and spa and the addition of four new restaurants, this ve-star hotel offers an unbeatable experience combining luxury, comfort and alpine glamour.
The establishment's four new restaurants are open to the public and offer four distinct culinary approaches, making the Fairmont Tremblant a unique culinary destination in Quebec. Particular attention is paid to its reception service and to the dining service. Additionally, this establishment partners with the Institut de tourisme et d'hôtellerie du Québec (ITHQ) to present a more avant-garde approach to the hospitality trade, which differs from the traditional approach. More than ever, this hotel is an ideal place to spend one's vacation as a couple, with family or with friends.
WESTIN RESORT & SPA TREMBLANT
This ve-star hotel complex at the heart of the pedestrian village is even more comfortable since its rooms were completely renovated. You can enjoy direct access to ski slopes and hiking trails. In addition, the establishment has a salt water pool, a spa, an outdoor whirlpool bath, a tness room, 24-hour room service, and a concierge to help you plan your stay. The restaurant offers a wide selection of tapas, paellas and seasonal dishes. With more than 4,090 square feet of conference rooms, the Westin Resort & Spa Tremblant is also ideal for business trips.
Note that the hotels Fairmont Tremblant and Le Westin Resort & Spa are participating in the Lodging Privileges program this winter. With the First Tracks program, you will have access to the North Side ski trails 45 minutes before the of cial opening to the public so that you can enjoy the best skiing conditions. Skate rentals are also included, and you can participate for free in the sliding evening events.
Text : Diane Stehle