Douglas Coupland – At Galerie Division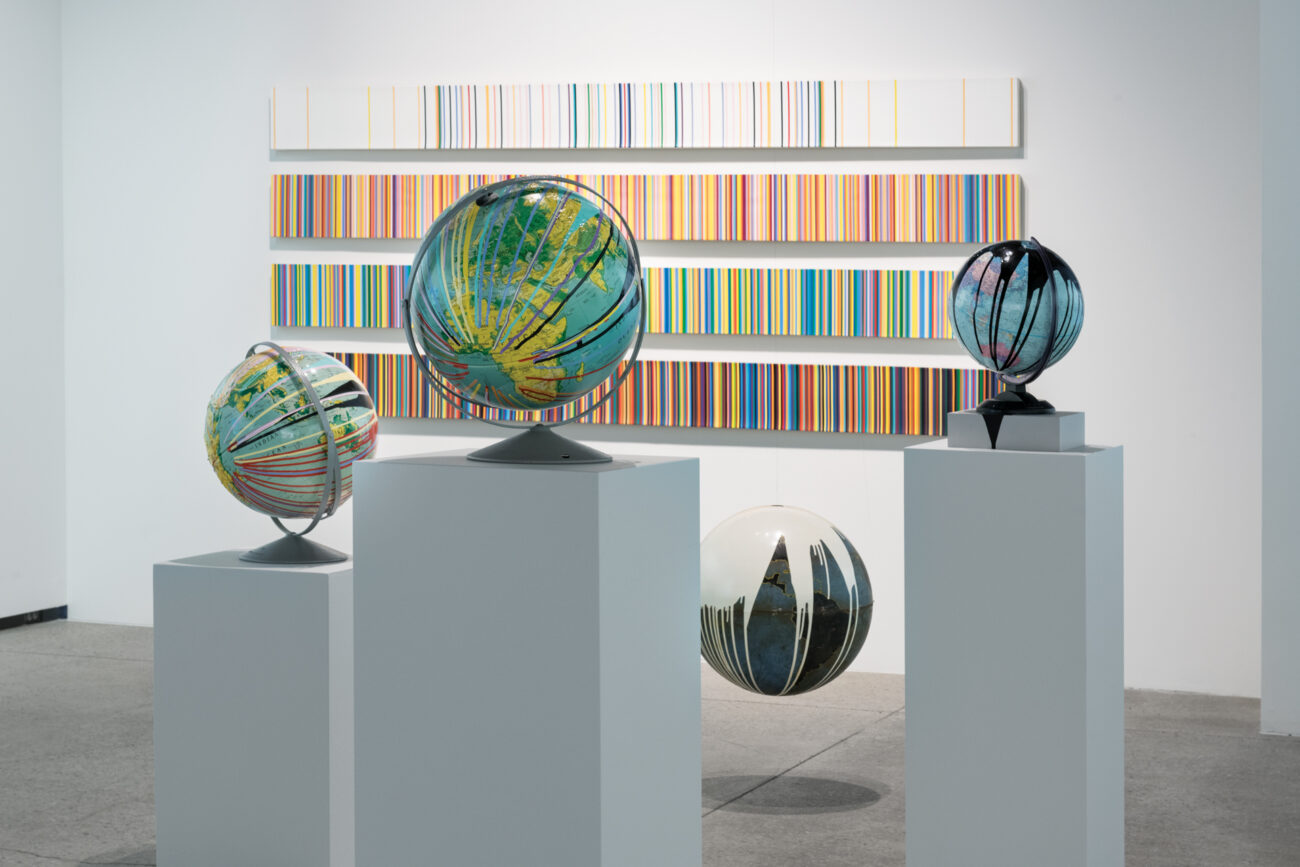 Galerie Division, in partnership with the Daniel Faria Gallery, is proud to present its first solo exhibition by Canadian artist Douglas Coupland. Recognized as much for his literary works as for his visual arts practice, Coupland acts as an observer of our contemporaneity, interpreting popular culture in a variety of mediums and considering, through these various points of entry, our twenty-first century condition.
The exhibition can be thought of as comprising three artistic traditions: that of the readymade, the portrait, and the landscape. The first body of work includes environmentally hazardous materials foraged from the shores of British Columbia in the aftermath of Japan's 2011 tsunami. Presented here in cabinets of plexiglass, the found objects in his Tsunami series suggest a new reality wherein the products we produce spread insidiously across the globe.
In the foreground: Pacific Trash Gyre No.28, 2016. Manufactured globe, steel, latex paint – In the background, from left to right: Electric Harris Emerald Lake #2, 2019. LED Backlit Kodak Duratrans print – Electric Harris Mount Robson, 2019. LED Backlit Kodak Duratrans print
Coupland's Lego Self Portraits question our identity in an era of overinformation and overconsumption. Where does the individual stand in relation to this new and growing accumulation of data? Coupland's randomly coloured Lego columns represent portraits of our data in which the self is difficult to discern. In the era of selfies, avatars and hyper-mediated self-image, the portrait evokes instant nostalgia–a longing for the present moment.
In the foreground: Tsunami Chest, 2014. Plywood, steel, Japanese tsunami debris harvested from the north coast beaches of Haida Gwaii – In the background: Lego Self Portrait No.4, 2019. LEGO blocks and plexiglass
Electric Four Seasons Suite: Winter, Spring, Summer and Fall, 2019. LED Backlit Kodak Duratrans print
The Brain, 2019. Mixed media installation with readymade objects
Coupland's third corpus focuses on the landscape, an ineluctable theme in Canadian art and a lens through which The Group of Seven sought to understand Canada. The artist has reimagined Lawren Harris's paintings as LED light-boxes, highlighting with this recent technology the technological innovations required to unite a vast country's dispersed populace. Coupland considers spatiality a key characteristic of visual art, and here, rendered in a palette of vibrant colour, that space becomes a visual language unto itself.
Tidewater, 2018. Salt water marine debris collected in Northern British Columbia, about 20% tsunami debris by volume and latex paint
Douglas Coupland is a graduate of the Emily Carr Institute of Art and Design in Vancouver, as well as the Hokkaido College of Art and Design in Sapporo, Japan and the Instituto Europeo di Design in Milan, Italy. Coupland's first major survey exhibition, everywhere is anywhere is anything is everything opened at the Vancouver Art Gallery in 2014. Coupland's works have been included in several group exhibitions and are part of numerous collections. Coupland was made an Officer of the Order of Canada in 2014.
In the foreground: Global Warming, 2014. Acrylic on globe – Middle: Pessimism 8, 2014. Acrylic on globe – In the background: Freon Wunderkammer, 2018. Pre-barcode spray cans, wood, Plexiglas
The Brain, 2019. Mixed media installation with readymade objects
Left: Electric Four Seasons Suite: Winter, Spring, Summer and Fall, 2019. LED Backlit Kodak Duratrans print – Right: Electric Harris Lake Superior, 2019. LED Backlit Kodak Duratrans print
Text: Sophie Pouliot
Cover: In the foreground: Pacific Trash Gyre No.28, 2016. Manufactured globe, steel, latex paint – In the background, from left to right: Electric Harris Emerald Lake #2, 2019. LED Backlit Kodak Duratrans print – Electric Harris Mount Robson, 2019. LED Backlit Kodak Duratrans print