Hugo Duchesne – His current favourite wines
Head sommelier at Coureur des Bois Bistro Culinaire, one of Quebec's largest wine cellars, Hugo Duchesne was the 2016 of winner of the prestigious Grand Award from Wine Spectator and is among the province's top sommeliers. In addition to his work as a sommelier, he teaches sommellerie at the Institut de tourisme et d'hôtellerie du Québec. Here he recommends a few of his current favourite wines.
CHAMPAGNE
Chartogne-Taillet Cuvée Sainte-Anne
ORIGIN: Champagne – France
VARIETY: Chardonnay, pinot noir
SAQ CODE: 12748673
PRICE: $53.25
In his vineyard in the village of Merfy in northwestern Reims, Alexandre Chartogne-Taillet produces his wines with care, parcel by parcel, progressively alternating between oak casks, steel vats, clay amphoras and concrete eggs. The chardonnay, pinot noir, pinot meunier and arbane grapes are cultivated on sand and silica soils. Cuvée Saint-Anne is made of equal parts chardonnay and pinot noir. It's an authentic wine with a bold attack on the palate and a fine, unique texture. The flavours oscillate between brioche, salt and pear. A great and simply irresistible champagne from a small producer.
WHITE WINES
Josmeyer Riesling 2013
ORIGIN: Alsace – France
VARIETY: Riesling
SAQ CODE: 12713024
PRICE: $65
The grape must naturally holds the aromas of the fruit. It's like a continuous race of flavours where stone fruits are coming up on the ginger, and then they're overtaken by honey, then honeysuckle, but never petroleum. Standing on the abundant landscape of marls and boasting freshness from the soil's calcium, this wine is in perfect harmony with the terroir, which produces a noble grape with unique personality. This riesling will pair beautifully with Gaspésie halibut or shellfish, accompanied by salt, saffron and tart flavours.
Domaine de l'Aigle à Deux Têtes Côtes du Jura Naturé 2016
ORIGIN: Jura – France
VARIETY: Chardonnay
SAQ CODE: 13200183
PRICE: $30.50
This chardonnay is the perfect introduction to Jura wines. Henri Le Roy makes ullaged wines that express the complexity of the Jurassic terroir and the marls on which they are produced. The result for this particular white is an unctuous, textured and full-bodied wine. With notes of hazelnut, fresh butter, ripe apple, yeast and toasted bread, this wine is the perfect accompaniment to a platter of Quebec cheeses.
RED WINES
Arpepe Sassella Stella Retica Riserva 2011
ORIGIN: Lombardy – Italy
VARIETY: Nebbiolo
SAQ CODE: 12986330
PRICE: $52
Straight out of Lombardy, Arturo Pelazzi Perego's nebbiolo (known as Chiavennasca in the region) is cultivated in incredible conditions, with the area's limited soil laid out on steep, terraced vineyards. Retica is a premium, fresh-tasting wine with characteristic finesse. Aged in old casks for four years, nebbiolo reveals thrilling elements of woodland and bold, ripe fruits, juicy strawberry and delicate truffle. This sumptuous and well-rounded red is characterized by its softer tannic structure. Ideal alongside duck carpaccio with truffles.
Nicolas-Jay Pinot Noir Willamette Valley 2014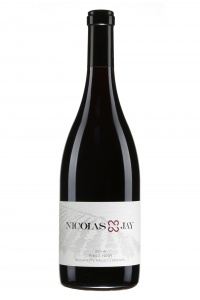 ORIGIN: Oregon – United States
VARIETY: Nebbiolo
SAQ CODE: 13264718
PRICE: $95.50
Where Burgundy meets Oregon. This wine is the fruit of a successful partnership between Jean-Nicolas Méo, one of Burgundy's major wine producers, and music entrepreneur Jay Boberg. This cuvée is a product of the Bishop Creek vineyard, under the Yamhill-Carlton appellation, and the Nysa and Momtazi vineyards, all enchanting hilly terrains that produce extraordinary fruit loaded with character and concentration. It displays earthy flavours brimming with black cherry. There are also hints of cigar box, mushrooms and candied raspberries, creating a drinking experience that's nothing short of sublime. The acidity leads into a bitter edge that will have you pouring another glass. This wine deserves a place among its classic Burgundian counterparts.
Mullineux Schist Syrah 2013
ORIGIN: Western Cape – South Africa
VARIETY: Syrah
SAQ CODE: 12857714
PRICE: $144
After working in France and California, Chris and Andrea Mullineux moved to Swartland where they now produce syrah on a single parcel of land with schist soil. This well-rounded wine is a true representation of the terroir in its density and structure. The nose offers notes of black pepper, black fruits and spices. Full-bodied on the palate with a fleshy, salty character, this red features silky, abundant tannins, balanced acidity and a long, smooth and fresh finish. Ideal served with wild game, gravy and smoked dishes.