Ipe Cavalli Visionnaire Collection : Where modern, classic and glamour meet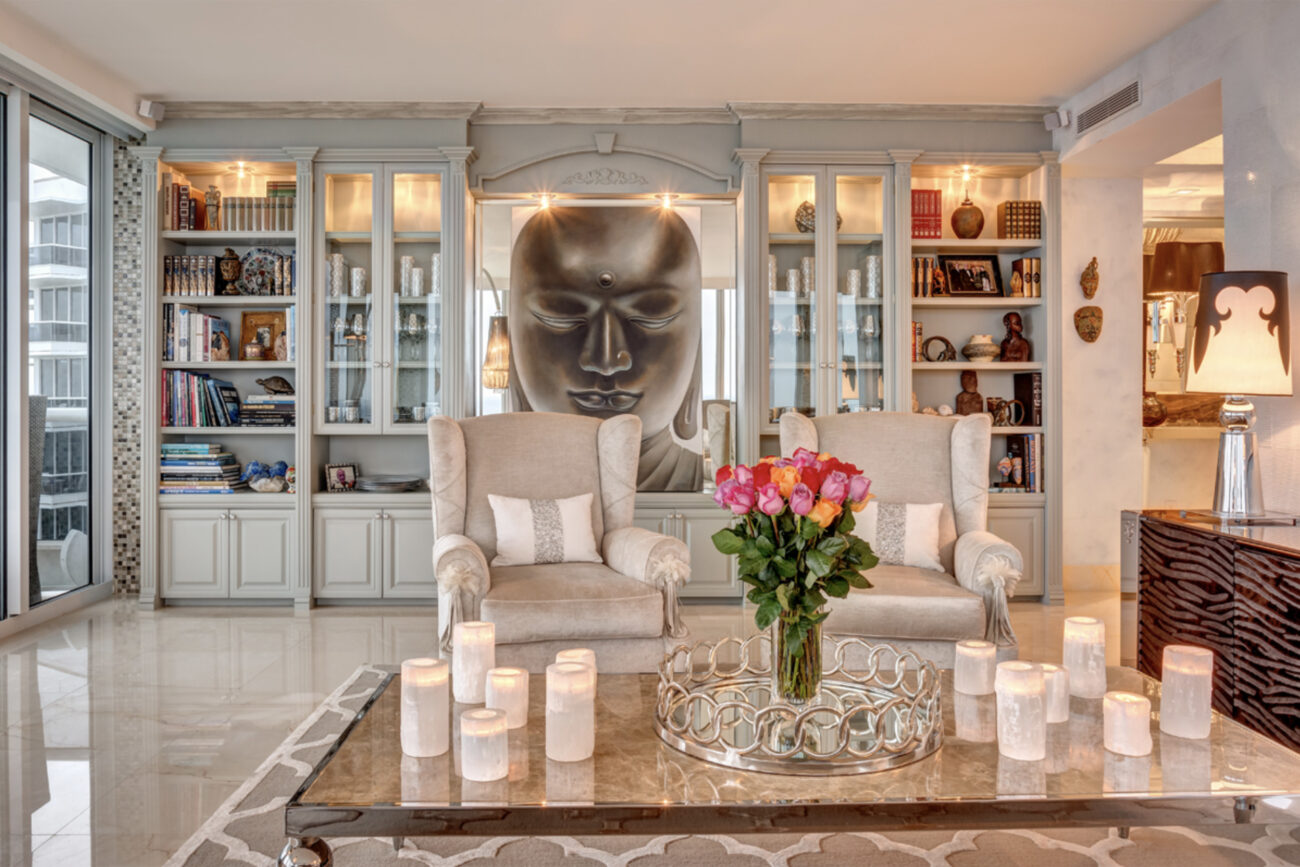 When you entrust Nordsouth Intérieurs with decorating your house you are allowing yourself to inhabit an environment that is a perfect combination of imagination, elegance and glamour. That's the gift that the owners of a condominium in the seaside resort of Boca Raton, a haven of peace barely an hour outside Miami, gave themselves.
"My clients had had a look at some of what I had accomplished in other places on the pages of Luxe. They wanted to meet me to discuss decorating their oceanfront apartment," explained Stéphane Fréchette who, with Robert Sauvé, founded Nordsouth intérieurs in Montréal in 1989. Both are internationally famous designers who have worked on numerous major projects in Canada, the United States and Europe.
"It didn't take my clients and me long to see that we were on the same wavelength. I'm not 'trendy.' My challenge is to find my clients' style, whatever it is. For this project they were seduced, as am I, by noble materials: wood, leather, stone, glass, marble. They were interested in everything I suggested and they trusted me entirely. That is a privilege," Mr. Fréchette added.
The designer felt that, "the space lent itself completely to what the Cavalli Visionnaire collection has to offer." This unique, modern brand has quickly conquered the international luxury design market. It's a collection that adapts admirably to the requirements of "bespoke" design and allows designers to find unique solutions.
Ipe Cavalli was created in 1959 and has evolved over the years, but it has always concentrated on its signature  quality: luxury. Not at any price: the furniture and lighting in the Visionnaire collection are designed for comfort and innovation using leading-edge technology. The result: sophisticated, elegant interiors. Like the apartment we are discovering today: sophisticated with a touch of simplicity, just like its owners.
This apartment has an unbeatable view of the Atlantic Ocean. "That's what inspired me to go with a sparse style," Stéphane Fréchette explained. A number of works of art decorate the light-filled space, some of them provided by the designer. "My resolutely eclectic taste allowed me to retain some of my clients' furniture, and it fit right in with the furnishings and lighting from the Visionnaire collection."
As is often the case, Stéphane Fréchette immediately chose monochrome colours and pale tones. All the floors are white, taupe or griege marble. "I like floors that unite the entire living space because they make it seem larger," he stated. The woollen rugs were made to order in India. All the doors in the apartment, whether lacquered wood or  stainless steel, were custom-made in Italy. The living room and dining room have walls panelled in carved quartz and share an open space. A large bookcase with a gigantic Buddha in its centre takes up one whole wall and creates a family atmosphere. The superb sofa and two greige armchairs are separated by a low marble table with polished stainless steel legs, the nec plus ultra of  metallic finishes. The dining room table has a marble top resting on Murano glass legs and is definitely one of the showpieces of the apartment.
The lamps, ceiling fixtures, chandeliers and torchieres scattered throughout the apartment are also from the Visionnaire collection. Several are made from stainless steel links and Swarovski crystals, giving them an unrivalled touch of art deco elegance.
In the bedroom a magnificent braided headboard made from wide bands of white leather unites the two single beds. The bedside tables hold lamps bearing the Visionnaire crest (a large oval). The second bedroom, which has been transformed into an office, has the same sparse style as the master bedroom.
The apartment has three bathrooms: a spectacular powder-room with stainless steel walls, the lady of the house's bathroom with white glass walls and a bathtub (Italian, of course!) under a magnificent stained glass window, and the gentleman of the house's bathroom with walnut cabinets.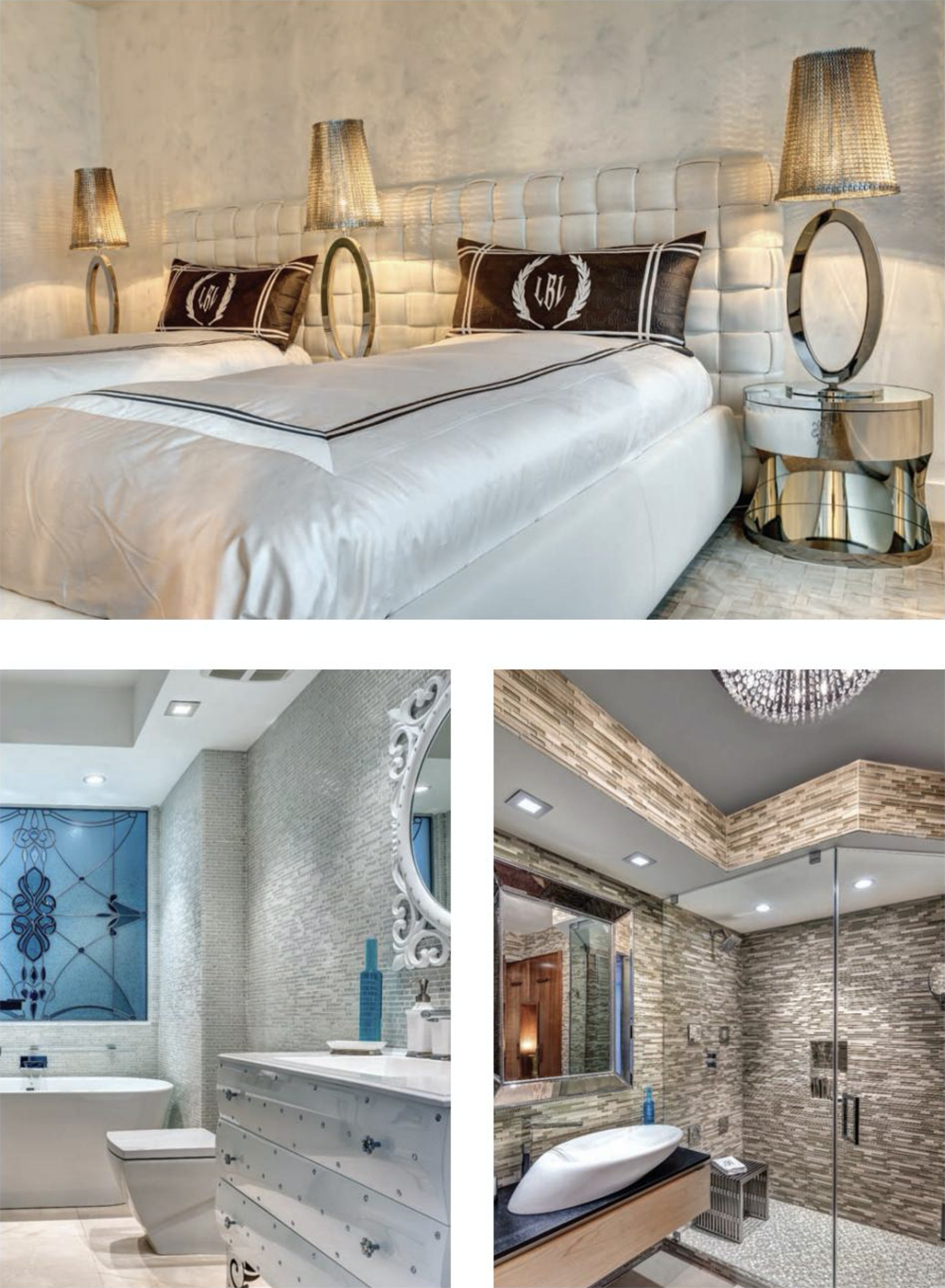 Each individual room and piece of furniture would make a good subject for an article. Stéphane Fréchette's clients are so satisfied that they have hired him to decorate their main residence. That says it all.
Stéphane Fréchette and Robert Sauvé are the founders of Nordsouth Intérieurs, which offers interior design services for the commercial and residential sector, furniture, lighting, accessories and an art gallery. For several years they have also had locations in Florida and Mexico. They are presenting the Ipe Cavalli Visionnaire Collection in Montréal in an exclusive gallery space in Union Square.
Montréal :
8128, boulevard Décarie Montréal (Québec)  H4P 2S8
514 288-1292
Miami :
16600 N.W. 54th Avenue suite 6, Miami Gardens, Floride USA 33014
305 621-0110 ou 305 205-5958
Puerto Vallarta :
Avalon #806 Gardenia 248. Col Amapas, Puerto Vallarta, Jalisco 48399
011-521-322-110-1022 ou 305 205-5958
Text: Renée Senneville
Photos: Kevin Lawson