Muir Hotel Halifax: the ocean as your backdrop
Elegant and resolutely modern, Muir Hotel is the centrepiece of Halifax's brand new Queen's Marque district. In the heart of the city, this luxury oceanfront hotel is a favourite thanks to its high-end hospitality.
Muir is a unique destination, inspired by Nova Scotia's natural beauty. With its first-rate, enviable location, the hotel offers direct ocean access and a breathtaking view. Guests can enjoy sleek interiors, premium wellness and fitness centres, exclusive amenities and benefits, and celebrated culinary experiences.
Minimalist and refined design
Designed by Studio Munge, the hotel's rooms and suites offer a perfect blend of aesthetics and function. Muir's high-quality furnishings and unique works of art are steeped in mid-century modern style, providing a calm and elegant atmosphere. The use of quality materials also contributes to the hotel's appeal.
Curved white oak walls are a common feature throughout the establishment, framing the ocean views. The hotel's large windows flood the interior with sunlight reflecting off the water—you can practically feel the sea spray on your skin! The spectacular Port of Halifax is all yours.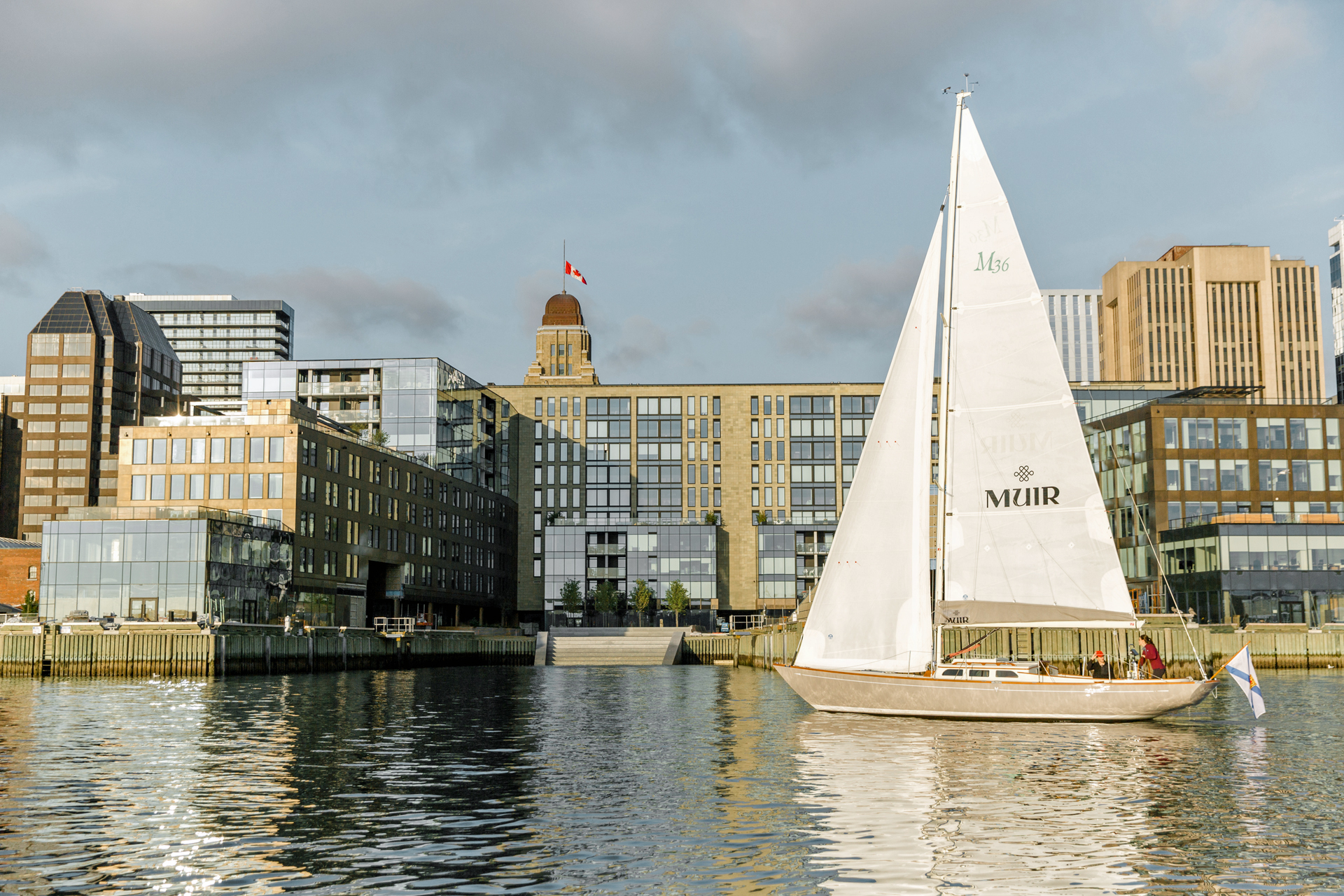 Relaxation and gastronomy
With its choice oceanfront location, Muir brings a sense of calm to its guests. You'll have access to Windward Wellness, a centre including premium workout facilities, fitness classes, a vitality spa pool, a halotherapy salt room, a eucalyptus steam room and an infrared sauna. Guests can also take advantage of Interlude Spa and enjoy aesthetic services, massage therapy and hair care. And if you're looking for outdoor activities, Muir offers yacht and motorboat rides and has kayaks, paddleboards and bicycles available to guests.
In addition to its incredible wellness offering, Muir knows how to entertain its guests. At the avant-garde of a district known for its fine dining, it's the ideal location for business meetings and private functions. At Drift, foodies can enjoy a modern take on traditional Nova Scotia fare. Get together with colleagues along the spacious bar, enjoy a local vintage by the fire or take in the ocean view on the patio. You can also stay in your room and enjoy a bottle from your private mini bar paired with contemporary haute cuisine prepared by the chef. For a premium cocktail experience reserved for Muir guests and clients, head to BKS. This exclusive speakeasy features access to a private terrace overlooking the ocean with one of the city's best views of the harbour.
SERVICE THAT MEETS YOUR STANDARDS
Premium access to reservations in the Queen's Marque district
Windward Wellness and Interlude Spa
True Colours, Muir's private art gallery
24-hour room service with the option to order chef-prepared meals
Conference rooms, printing services and catering for businesses
Car service with a private driver in a hybrid Range Rover
Valet and electric car charging stations
Muir yacht excursions
Outdoor activity equipment available
Laundry and dry-cleaning services
Pet care services
24-hour front desk and security guard
Muir offers the Marriott Bonvoy program.
Text: Alexandra Wegliszewski