Noam Carver: Creating Moments
Launched in 2009, Noam Carver is the culmination of expert craftsmanship, timeless design, and a conceptual artistry deriving at unique jewelry that has won the bridal world over one ring at a time. Reconciling the essence of what makes a jewelry brand stand out in such an oversaturated industry, Noam Carver's connection to his formative years in Montreal is what keeps the award-winning brand on the cutting edge of what has become a highly coveted, world-renown design aesthetic.
How was Noam Carver conceived?
It was over 20 years ago that I began as an apprentice in the jewelry world. My father was in the business and helped me get an apprenticeship with Paolo Vena, an expert craftsman in Montreal. In 2009 I created Noam Carver and started to design bespoke custom jewelry. From there, the brand started to build organically. I eventually partnered with my parent brand CrownRing which helped propel Noam Carver on an international scale.
What inspires your design process? 
I developed my design aesthetic working one-on-one for friends and acquaintances out of my workshop in Montreal, and so I drew inspiration from the women around me: the quintessential Montreal girl. She is well travelled, highly educated, career oriented, but most importantly, she is fashion forward and always edgy. I try to convey that very essence. This helps orient my thought process from the conceptual phase all the way to the end product. It's about playing with dichotomies of what is conceptual, contemporary, and timeless, because at the base of it all, that is the essence of bridal.
How would you describe the Noam Carver aesthetic, and how does it maintain its uniqueness in the industry?
There is one ring that took Noam Carver to the next level and when I launched my bridal collection that ring went viral. From the top view, it seemed like a classic ring, but it had an explosive diamond-encrusted basket design. The fine detail and punch of a simple solitaire diamond drew so much interest, it won 1st place in the 2019 JCK Jeweler's Choice Awards. This ring encapsulates the Noam Carver look, because regardless of the theme that drives a collection—vintage, floral, or the now-trendy resurgence of yellow gold—Noam Carver is always contemporary and slightly different than whatever else is out there.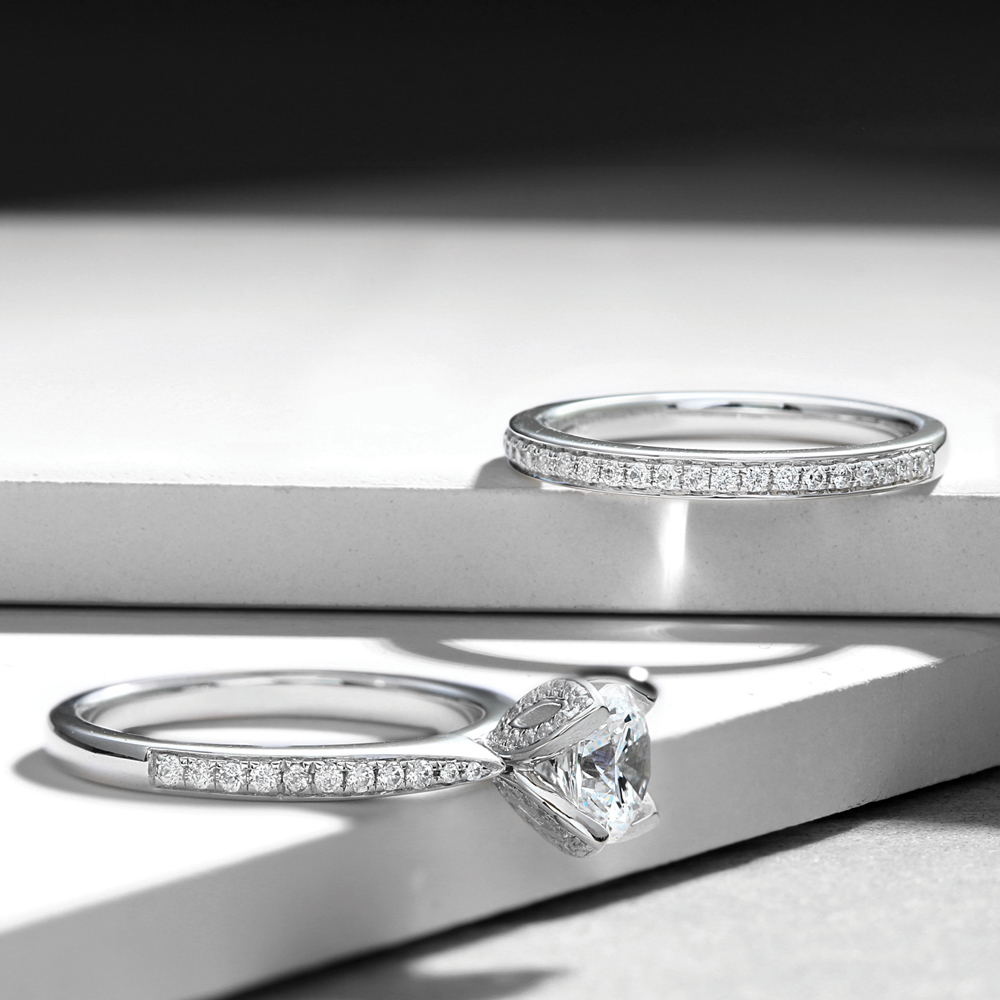 What are some current trends you see in bridal?
Today's bride is different than before, she's searching for a genuine way to reflect her individuality. The way we shop is different and the way we convey who we are to the world is different, so it's no wonder women are looking for an authentic form of expression when it comes to their engagement ring. Brides look to infuse their unique identity into a ring, and they are searching for something classic that will stand the test of time. Distinct and non-traditional, I focus on garnering relationships with consumers, because after the engagement comes the wedding, anniversaries and other special moments. The trend is less about the materials and cuts, more about the wearer, and that's the everlasting connection that should be established and sustained.
How do you stay ahead of the trend?
The truth is that bridal is a highly sought after category, it's viral online. Women look for their engagement rings years before they get engaged. Staying original and ahead of the trend just means I stay connected to the wearer. Taking the award circuit very seriously I use it as my artistic playground. I'll test some wilder ideas—black finishing, primary colour enamel or different gem stones—and then later iterate my design creations into a more wearable collection. Design awards are not only great exposure and notoriety, but also a great way to experiment with new materials and daring combinations. That's how trends are created.
What's next for Noam Carver?
We have expanded worldwide, doubling down on our retailers whether it's with a North American audience or European and Asian markets. Recently, Noam Carver launched shop-in-shops with several retailers, which provides the opportunity for a fully branded experience and greater exposure. In June, we launched Atelier, a high-end, artisanal collection that focuses on only the finest materials pairing them with exceptional diamonds. This is a collection that speaks to a select clientele, for women who truly want to stand out from the crowd. Once these projects have crystallized I will set my sights on breaking into the fashion world.
2019 Instore Design Award (one-of-a-kind piece)
Text: Alecs Kakon