Noteworthy Spots in Montreal and the Laurentians
Montreal
Bottega
This pizzeria ranks amongst the best in Montreal and perhaps wins the gold for its Neapolitan pizza. Bottega means "artisan shop" in Italian—a perfect name for this place which offers everything homemade, from pizza crust to gelato.
65 Saint-Zotique Street East
Montreal
514-277-8104
Brasserie Lucille's
The Brasserie Lucille's menu focuses on expertly prepared classics such as seafood platters, tartare, steak and pasta. Look no further for a welcoming location to spend a wonderful evening.
4124 Sainte-Catherine Street West
Westmount
514-933-9433
www.brasserielucillesoyster.com
Café Gentile
A sequel to the original Café Gentile on du Parc Avenue, this eatery offers a choice of sandwiches and salads for lunch and delicious Italian specialties for dinner. And let's not forget their excellent coffee.
4126 Sainte-Catherine Street West
Westmount
514-925-8686
Damas
From its exotic specialties to its elaborate wine menu and genuine service, this Syrian eatery provides a journey for the senses that you will never forget.
1201 Van Horne Avenue
Montreal
514-439-5435
Ferreira Café
Founded by Carlos Ferreira and currently managed by his daughter Sandra, this restaurant is the go-to place to enjoy a dish from the sea downtown. Take a seat in its welcoming dining room and choose from a menu of savoury Portuguese dishes and fine wines.
1446 Peel Street
Montreal
514-848-0988
Grinder
A menu featuring both raw and cooked options: tartare, ceviche and carpaccio, as well as grilled and braised meats, all to be shared. In other words: foodies, rejoice!
1708 Notre-Dame Street West
Montreal
514-439-1130
Henri Brasserie Française
Discover modern cuisine inspired by timeless traditions from the greatest French brasseries, served in a luxurious nineteenth-century atmosphere.
1240 Square-Phillips Street
Montreal
514-544-3674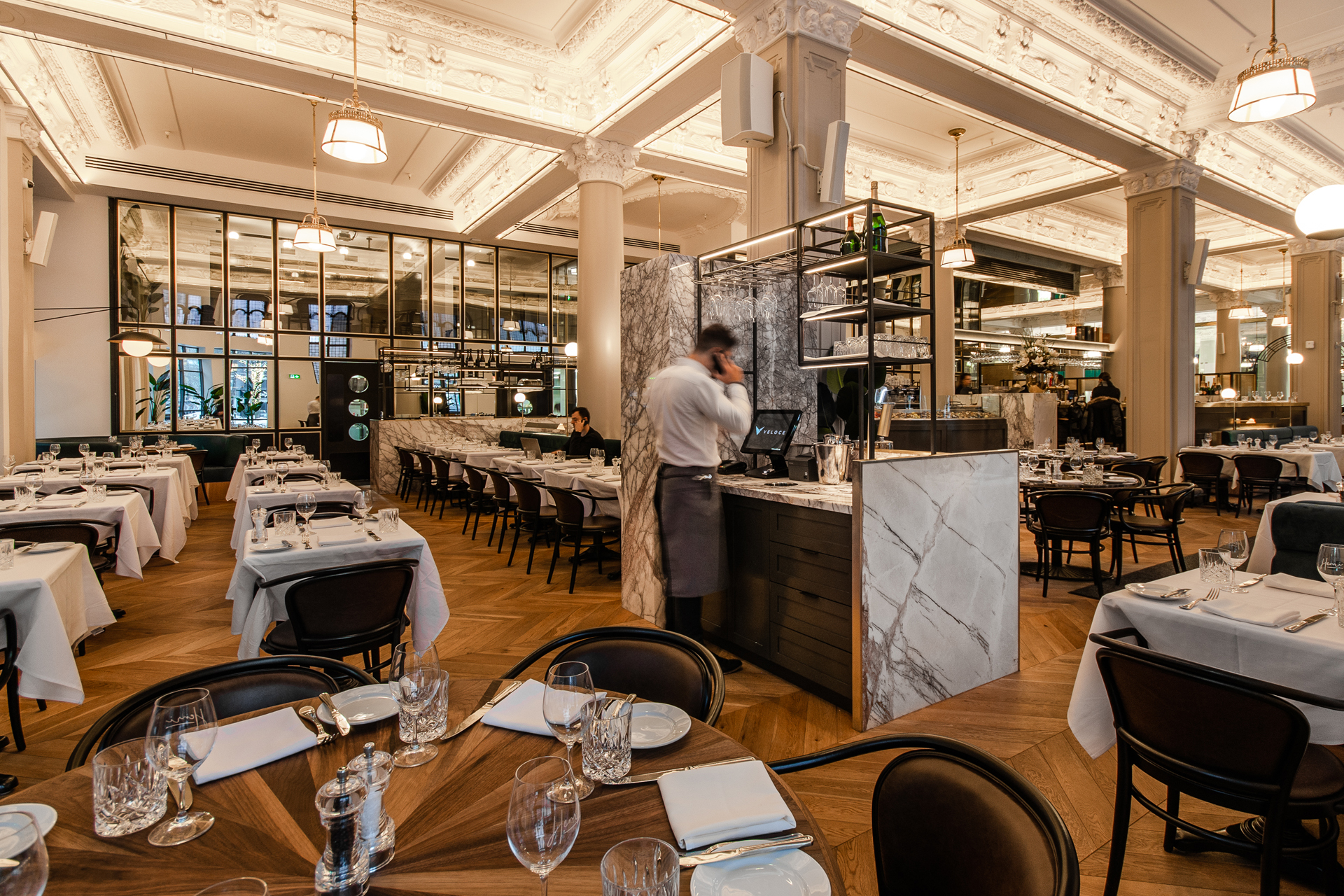 Il Cortile
Located near the Museum of Fine Arts, this upscale Italian restaurant makes you feel like you're eating in the heart of Tuscany. With its large terrace lined with thousands of flowers, it's a moment's escape from the city noise.
1442 Sherbrooke Street West
Montreal
514-843-8230
Jatoba
A modern and elegant restaurant that serves mouth-watering Asian dishes with a spotlight on seafood. It includes a bar and a gorgeous terrace.
1184 Phillips Place
Montreal
514-871-1184
Joe Beef
Founded by David McMillan, Frédéric Morin and Allison Cunningham, this restaurant has become an institution not only in Montreal, but on the international scene, and rightly so. Joe Beef is renowned not only for its exquisite dishes and wines, but also for their love, generosity and opulence that reigns supreme.
2491 Notre-Dame Street West
Montreal
514-935-6504
Leméac
A true icon of Montreal's gastronomy scene, this distinguished French brasserie serves up a daring take on fine cuisine. You'll love the authentic experience and four-season heated terrace.
1045 Laurier Avenue West
Montreal
514-270-0999
Le Pois Penché
This Parisian brasserie serves French-style comfort food and seafood in a quiet atmosphere, from brunch until evening.
1230 Maisonneuve Boulevard West
Montreal
514-667-5050
L'Express
Established in 1980 at the centre of the Plateau‑Mont-Royal, this restaurant has won the hearts of many Montrealers. Consider it a safe bet, as it serves delicious dishes every time around.
3927 Saint-Denis Street
Montreal
514-845-5333
Liverpool House
Joe Beef's little brother is always worth a mention. Liverpool House was chosen by President Barack Obama and Prime Minister Justin Trudeau for a Montreal dinner that was hot on the radar.
2501 Notre-Dame Street West
Montreal
514-313-6049
Maison Boulud
Located inside the Ritz-Carlton Montreal, Maison Boulud offers an exceptional menu courtesy of famous chef Daniel Boulud. Let yourself be enchanted by its elegant atmosphere and decor.
1228 Sherbrooke Street West
Montreal
514-842-4224
Maiko Sushi
An elegant Japanese restaurant offering refined cuisine, you'll find classics like sushi, maki, tempura and miso soup, as well as cleverly reinvented dishes.
D-3339 Sources Boulevard
Dollard-des-Ormeaux
514-684-3131
Makro Pêcheries
A great location to sample exquisite seafood and fish in an elegant and bustling atmosphere, courtesy of Grinder owners Jean-François Corriveau and Léa d'Amboise.
1726 Notre-Dame Street West
Montreal3
514-379-6002
Marcus Restaurant
Located on the third floor of the Four Seasons hotel, the Marcus is open all day for drinks, lunch and dinner. The menu features flavours from the sea, carefully prepared by renowned chef Marcus Samuelsson.
1440 de la Montagne Street
Montreal
514-843-2525
Milos
A landmark Greek restaurant serving classic dishes cooked to perfection. At Milos you'll find exquisite dishes and high-end service.
5357 du Parc Avenue
Montreal
514-272-3522
Park
Discover Japanese dishes enhanced with Korean and American touches, all featuring a fusion of flavours that showcase the talents of the restaurant's owner, chef Antonio Park.
378 Victoria Avenue
Westmount
514-750-7534
Pizzeria Moretti
Located at the heart of Griffintown, this pizzeria offers a modern spin on Italian classics in a casual atmosphere.
1059 Wellington Street
Montreal
514-954-0000
40 Westt
With beef aged on-site, an adorable table d'hôte, delicious martinis and fantastic jazz shows on the weekends… what more can you ask for?
2305 Trans-Canada Hwy
Pointe-Claire
514-428-9378
Renoir
Located in the Sofitel Montreal Golden Mile hotel, Renoir Restaurant serves up Québécois cuisine with a French je ne sais quoi. It has received two "Toques" from the Gault & Millau gastronomy guide. They also offer one of the best brunches in town.
1155 Sherbrooke Street West
Montreal
514-788-3038
Restaurant Toqué!
This iconic Montreal establishment is considered to be one of the best restaurants in town. Each year, owners Normand Laprise and Christine Lamarche offer a new and improved version of its haute-cuisine menu featuring local delicacies.
900 Jean-Paul-Riopelle Square
Montreal
514-499-2084
Restaurant Zante
An eatery that serves traditional Greek fare in Mediterranean-inspired decor. Its seafood and fish options are as fresh as can be.
1112 Sherbrooke Street West
Montreal
514-288-4777
Rib'N Reef Steakhouse Restaurant
Grilling is what this restaurant does best, as proven by its 50-year-plus track record. Take in the decor inspired from bygone days and savour a rich meal, followed by a visit to the cigar lounge to conclude the evening.
8105 Décarie Boulevard
Montreal
514-735-1601
Ristorante Beatrice
A charming eatery offering fine Italian cuisine at the heart of downtown Montreal.
1504 Sherbrooke Street West
Montreal
514-937-6009
Rosélys
Located at the chic Hotel Fairmont The Queen Elizabeth, Rosélys combines gourmet cusine with a laid back bistro style. Open from morning to evening, the menu includes everything from brunch to tea time.
900 René-Lévesque Blvd West
Montreal
514-954-2261
Ryu Westmount
Ryu Westmount offers an exquisite fusion of modern and traditional Japanese cuisine prepared with sophistication in mind. Ryu only uses the best certified-origin products sourced exclusively from sustainable fisheries.
4185 Sainte-Catherine Street
Westmount
514-320-0191
Taverne sur le Square
This restaurant offers a seasonal menu based on Italian and French cuisine. Its house specialties include succulent pasta and delectable meat dishes.
1 Westmount Square
Westmount
514-989-9779
Tuck Shop
Tuck Shop only includes an intimate thirty seats, yet serves up marvellous dishes. Stop by for a generous serving of true comfort food. Tuck Shop also offers an excellent catering service.
4662 Notre-Dame Street West
Montreal
514-439-7432
Vin Papillon
Another member of the Joe Beef and Liverpool House family, brought to you by the same owners, Vin Papillon will delight veggie lovers, comfort food enthusiasts and organic wine aficionados alike.
2519 Notre-Dame Street West
Montreal
514-439-6494
Laurentians
La Belle Histoire
The young couple Sophie Allaire, sommelier, and Étienne Demers, chef, turned the former Bistro Champlain into a modern and charming restaurant under the name of La Belle Histoire. Their dishes make the tables worthy of their size!
75 chemin Masson
Sainte-Marguerite-du-Lac-Masson
450-228-1595
La Forge Bistro Bar & Pub
Ideal after a beautiful day of skiing, enjoy a selection of grilled foods and great drinks in a relaxed atmosphere. Grilled meats, tartars, mussels and fries, salads, burgers, pizzas, vegetarian and gluten-free dishes are all highlights.
3041 chemin de la Chapelle
Mont-Tremblant
819-681-4900
La Quintessence
Listed as AAA/CAA Diamond Awards, La Quintessence is an excellent restaurant in the hotel by the same name offering French-inspired delicacies and an award-winning wine list. In summer, the terrace offers breathtaking views of Lake Tremblant.
3004 chemin de la Chapelle
Mont-Tremblant
514-288-0689
Patrick Bermand
Tasty cuisine, an extensive wine bar and a friendly atmosphere: in the duration of a meal, time will stop. The French chef's specialty is undoubtedly beef, served in all its forms.
2176 chemin du Village
Mont-Tremblant
819-425-6333
Text : Diane Stehle