Under the Saint-Tropez Sun
Nestled at the very end of a peninsula, this little village of 4,500 people welcomes millions of visitors each year. Saint-Tropez has a unique magic that's full of paradoxes: luxury and simplicity, tradition and modernism, culture and glamour…
WHAT TO DO
Take a stroll through the old port and the old town
After admiring the yachts and sailboats, take a walk along the narrow, picturesque streets of the old city. You're sure to fall under its spell. Stop and have a drink on the patio of the famous Sénéquier cafe.
The Annonciade Museum
Discover the works of Fauvist, Nabi and Pointilist artists such as Signac, Matisse, Derain and many others.

The citadel and its museum
The citadel offers the most beautiful panorama of the Gulf of Saint-Tropez. It also houses Saint-Tropez's Maritime Museum.
The beaches
Take the coastal path down to the legendary Pampelonne Beach, passing by the Bay of Canebiers and Brigitte Bardot's famous property,  Madrague.
Shopping
The most prestigious boutiques and designer brands (Dior, Gucci, Louis Vuitton) stand alongside the no less refined made-to-measure Tropéziennes sandals.
Specialties
Saint-Tropez would be nothing without its tarte tropézienne and Câlins de Saint-Tropez chocolates. Delicious!
WHERE TO EAT AND SLEEP
Saint-Tropez is overflowing with great restaurants and hotels. We have chosen three that are renowned for their food as well as their lodgings.
The Byblos hotel and its restaurant Rivea by Alain Ducasse
The hotel
Founded over 50 years ago, the Byblos and its night club, Les Caves du Roy, are intimately linked to the history and international renown of Saint-Tropez. Artists have chosen it for its out-of-the-way kind of beauty, and they like to party there. This five-star palace has 91 rooms, including 50 suites, all of which are cocoons of elegance and comfort made so that guests feel at home. Perhaps that's how the Byblos sets itself apart. Luxurious but simple, the hotel gives its guests the feeling of being at home while still being watched over by its benevolent employees. It has two restaurants: one offers light poolside meals, while the other, Rivea by Alain Ducasse, offers gourmet dinners. The hotel also boasts a Spa by Sisley Cosmetics, a gym, a beauty centre, a Clefs d'Or concierge service that is accessible at all times, and most recently, a grocery store.
The restaurant
Vincent Maillard, disciple of Alain Ducasse and chef of Rivea, plays with the treasures of Provence and Italy to create cuisine that is full of refined flavour and made with the local ingredients that are in season.
The Château de la Messardière and its restaurant L'Acacia
The hotel
This five-star palace is located within a ten hectare private park that is also a bird sanctuary. The authentic castle was built in the 19th century. Today, it offers 60 rooms and 57 suites with comfort and facilities worthy of its rank: indoor and outdoor pools, spa, boutiques, and more. The service is incomparable. Note that its two restaurants are open to the public.
The restaurant
L'Acacia alternates with panache between the great classics of French cuisine and Mediterranean creations full of flavour. The restaurant extends onto a vast terrace with a unique panorama of the Bay of Pampelonne.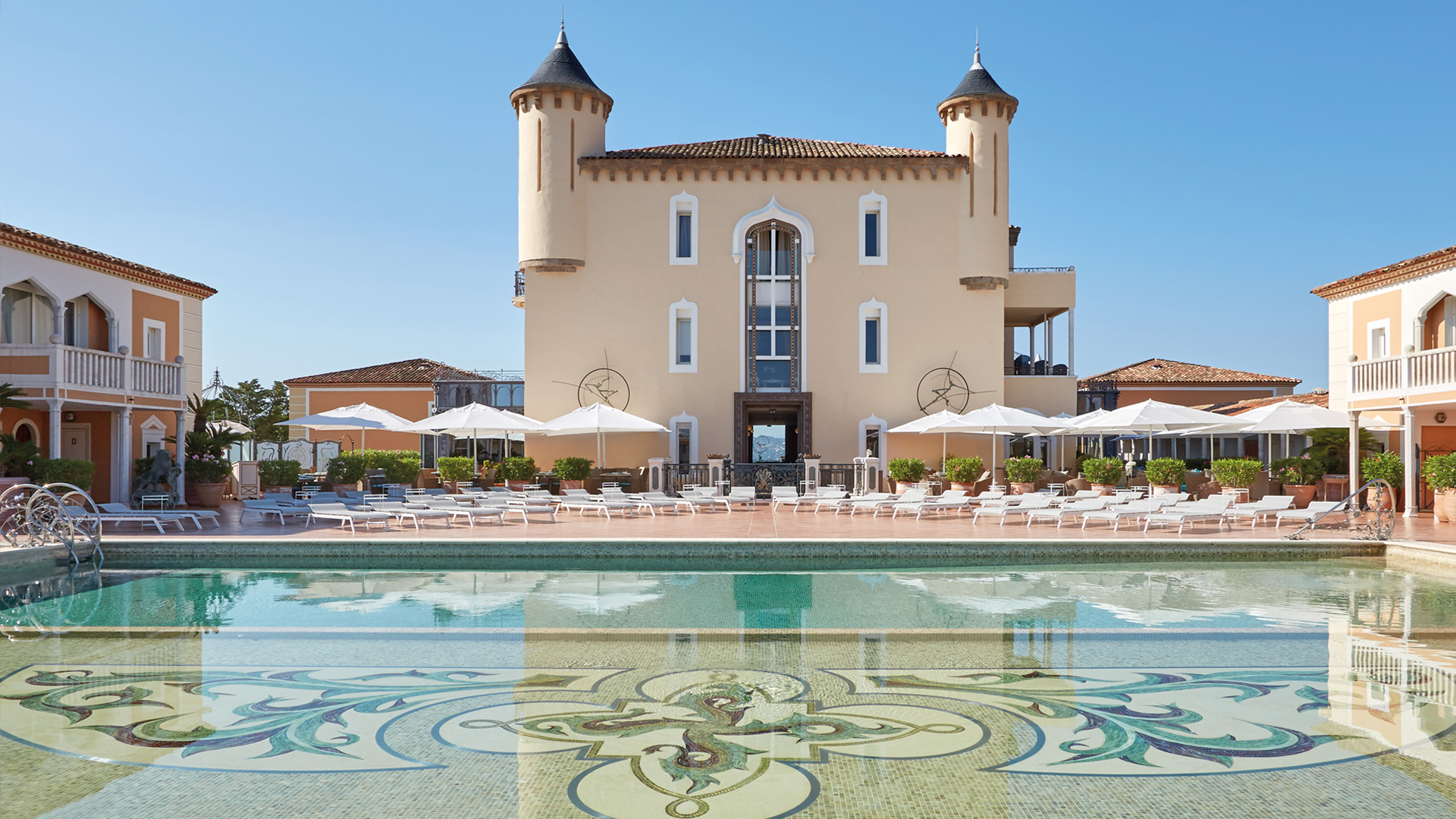 The Althoff Hotel Villa Belrose and its Michelin-starred restaurant Le Belrose
The hotel
Located in Gassin on a 7,000 m2 property of pine forest and landscaped gardens, the Florentine-inspired Althoff Hotel Villa Belrose offers a panoramic view of the Gulf of Saint-Tropez. This luxury hotel has 40 magnificent rooms and suites, a Michelin-starred restaurant, a beauty centre and a large heated pool. In this classic, welcoming atmosphere, the Clefs d'Or concierge service is highly personalized and accessible at all times.
The restaurant
Chef Pietro Volontè offers moments of pure pleasure with his modern Italian-influenced Mediterranean cuisine at Le Belrose restaurant. His talent has earned him a first Michelin star.
We would like to thank the Saint-Tropez Tourist Office for their collaboration, and particularly Sabrina Noto for her valuable help and kindness.
Text: Diane Stehle
Photos: Ville de Saint-Tropez © Jean-Louis Chaix – The Byblos hotel restaurant Rivea by Alain Ducasse © Adrien Daste – The Château de la Messardière © David Grimbert – The Althoff Hotel Villa Belrose in Gassin © 3 Mile